See on Scoop.it – Social Media and Mobile Websites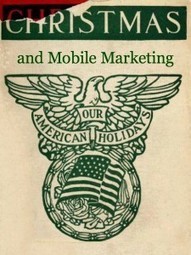 Joan Stewart's insight:
Why Holiday Mobile Marketing is Key – Article by Bob Hutchins
Online sales for Thanksgiving and Black Friday 2013 increased nearly 20% over last year.
25% of all Black Friday online browsing was done on a smart phone. 14% of all traffic done on a tablet.
22% of all online sales were completed on a mobile device. 14% of all online sales were made on a tablet.
Online sales for Thanksgiving and Black Friday 2013 increased nearly 20% over last year.25% of all Black Friday online browsing was done on a smart phone. 14% of all traffic done on a tablet.22% of all online sales were completed on a mobile device. 14% of all online sales were made on a table
Read more at http://www.business2community.com/marketing/mobile-marketing-holidays-late-0704198#R6TuCSyTwPelGgMg.99Online sales for Thanksgiving and Black Friday 2013 increased nearly 20% over last year.25% of all Black Friday online browsing was done on a smart phone. 14% of all traffic done on a tablet.22% of all online sales were completed on a mobile device. 14% of all online sales were made on a table
Read more at http://www.business2community.com/marketing/mobile-marketing-holidays-late-0704198#R6TuCSyTwPelGgMg.99
See on www.business2community.com